At Rwanda Trading Company we are
committed to improving economic freedom and security for smallholder farmers by building
resilient, transparent supply chains.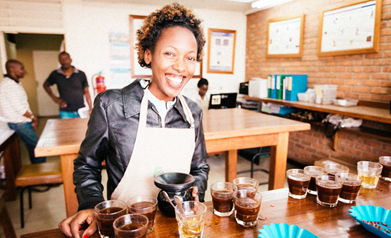 Rwanda Trading Co. owns and operates eighteen
wet milling stations and works directly with farmers
throughout Rwanda - buying, milling, processing,
and marketing their coffee.

<! by numbers->
Rwanda Trading CO.
by the numbers
220 staff members
65,000 farmer partners
50 clients worldwide
77% traceable coffee
75% certified coffee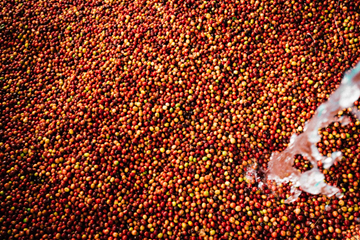 QUALITY
ASSURANCE
At Rwanda Trading Co., we believe that
farmer development and investment into the
supply chain infrastructure is fundamental in
producing quality, consistent coffee. We have
achieved this by creating training programs,
setting standards from farm to final delivery,
invest in owned washing stations and offer
oversight to our partner stations.
OUR
PRODUCTS
Through our processes and standards, RTC is
able to offer both naturally processed and
fully-washed coffees - monitoring and quality
checking at every step of the process upon
delivery to our dry mill.
We offer a range of different qualities of
green coffee, catering for micro roasters,
large cafe chains, and traders. We supply
specialty, certified, traceable, and other
commercial quality coffees including:
Fully-washed Micro-Lots
Natural process Micro-Lots
Fully-washed Inzovu Supreme
Fully-washed Inzovu conventional
Fully-washed Inzovu Certified
Fully-washed Inzovu PB
Agaciro 1

Rwanda Trading Co. offers financial literacy,
agribusiness management,
and agronomy training
programs to increase yield
and keep farmers
operational, profitable, and
healthy.
training &
support

In 2019, Rwanda Trading
Co. shipped the first
container of digitally
traceable coffee from
Shyara Mountain to Little
Rock, AR, U.S.A.
Learn more about
traceable coffee at
Farmer Direct Verified®.
transparent
Purchasing

Rwanda Trading Co.
oversee milling, processing,
and quality control and
provide access to the
futures market to secure
the best prices for farmers.
Oversight &
Access
FARMER IMPACT
After eight years of providing agronomy
training, Rwanda Trading Co. has again
embarked on a new journey to take our
farmers to the next step. After assessing
various farmers, we realized that many of the
coffee trees were very old and past their
prime time. Rwanda Trading Co. plans to
distribute over 5 million coffee seedlings in its
supply chain over the next four years. Over
350,864 trees have already been planted in
Rwanda, and the company plans to distribute
1.2 million more by the end of 2022.